Our vision is to strive for scientific excellence in AI research and develop holistic solutions that promote human well-being.
Letter from Director
AI is becoming omnipresent and is transforming our world with its explosive growth. This shift brings new challenges and opportunities for the well-being of humans. If AI is to serve humanity, it must foster human engagement and incorporate solutions that are accessible to all humans. We need to move away from siloed approaches in AI development, deployment, workforce training, and research methods, and embrace transdisciplinary approaches.
In this consortium we are bringing together thought leaders and researchers from four core organizations in the southwest region, to invent, deploy, and advance AI at scale in multiple domains. By engaging multiple and diverse stakeholders from research, industry, and government, we aim to generate high-impact solutions that enable positive change in our community.
An essential aspect of this consortium is that we prepare future leaders to be agile learners and train them in a transdisciplinary environment to develop forward-looking, sustainable, and comprehensive solutions. At MATRIX, we will collectively strive to reduce the barriers faced by minority groups entering into AI fields and enhance their research trajectories.
Something incredible is going to happen here. Join us on this adventure!
Dhireesha Kudithipudi, Ph.D.

Professor, Robert F McDermott Endowed Chair, Director of MATRIX AI Consortium Departments of Electrical Engineering/Computer Science, UTSA
The MATRIX mission is:
To conduct transformative research in the design, use, and deployment of AI that enhances human life;
To offer rigorous research training opportunities that transcend disciplinary boundaries.
Our Values
Discovery

Our mission is to build AI for enhancing human life. We aim to address fundamental research questions to empower the scientific community, and benefit humanity. We intend to provide a unifying foundation for the discovery and deployment of AI among academia, government, and industry.

Community

With our distinct focus on community impact and close partnerships with the local community and policymakers, we will accomplish broad-reaching solutions.

Collaboration

We will cultivate diverse and collaborative teams that offer wide-ranging skillsets and perspectives to generate high-impact ideas. We will serve as a bridge to researchers from multiple disciplines in their pursuit of intellectual activities.

Inclusiveness

In order to democratize AI it is important that the new generation of researchers and scientists mirror the rich diversity in our society. We believe that our commitment to inclusiveness will lead to a profound improvement in the quality of our research endeavors.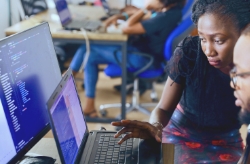 Diverse Perspectives
We are committed to engaging with individuals and groups that share our mission of expanding and diversifying the AI workforce. To achieve this goal, we are continuously identifying collaborative opportunities across the K-20 pipeline in the greater San Antonio area. Please contact
ai@utsa.edu
to discuss how MATRIX can support your student success or workforce development efforts.